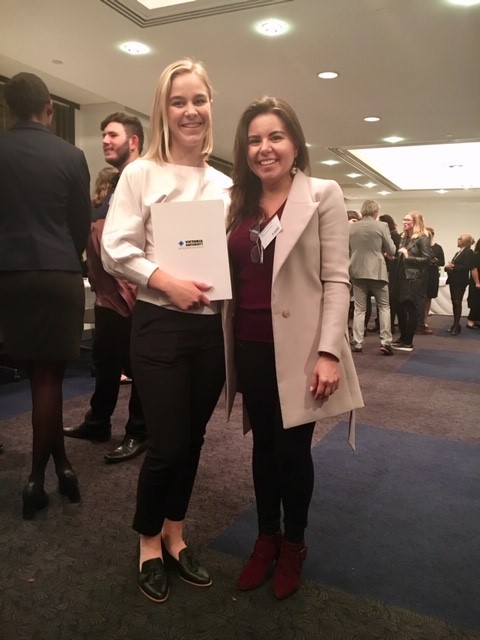 VU Business School Awards Night- YTN Award
YTN attended the VU Business School annual Student Awards to recognise the outstanding achievement of 2019 students. The student awards are typically sponsored by close partners of the Victoria University Business School and the broader University. Sponsors include alumni, employers, Work Integrated Learning host organisations, professional bodies aligned with the School.
This year, Eliza Jones was the winner for 'Outstanding Student Bachelor of Business – Tourism, Hospitality or Event Management' which is the award that YTN has sponsor in the last couple of years.
Q&A with Eliza Jones
Why did you choose to study tourism/events?
I left high school with little idea about which path I wanted to take with my future career. So I took myself off to Europe to backpack and try to brainstorm more about my decision. While travelling I found a love for being active, working with my hands, and finding meaningful connections with others. My conclusion was to get into events – which best suited these desires. And thus I enrolled into a Bachelor of Business: Event Management with Victoria University (from a small and stuffy hostel in Istanbul).
What do you like most about this industry?
As I said before, my passion for events and tourism was first found through a desire to connect with people. The thing I love the most about this industry is the ability it has to bring people together. Whether that be through a shared glass of wine at Melbourne Food and Wine festival or gaining a greater understanding for the Victorian coastline through the new facilities at the Twelve Apostles Lookout. What means the most to me is a shared experience.
What was your favourite module and why?
In my last year of study I started to focus my efforts on what type of tourism and events I was specifically interested in. One subject that stands out the most to me was Sustainable Destinations. This subject centered around the relationship between a destination and tourism visitation – and that traditionally a rise in tourism can lead to a decline in the health of a destination's environment, people and livelihood. My interest in sustainable tourism and events grew throughout the course – and has become a big goal for where I hope to take my career.
Where has your career taken you to now?
Recently I have taken a Graduate Role with Visit Victoria, within their Major Event Acquisitions team. This is a big and exciting step into the working world, one that I am very proud to take! I look forward to gaining an understanding of the role Government plays in acquiring major events for the state of Victoria. The Major Events space is only growing within Victoria, and I am humbled to play a role within this.
What do you like doing outside Uni?
Much of my time is spent with friends and family, as well as dreaming of where my next holiday might take me. Currently, I am looking forward to exploring more of Australia and gaining a greater appreciation for the landscape and environment that we have here. I am hoping to head to Tasmania this year to see the incredible Cradle Mountain – and hopefully walk the Three Capes.
Eliza Jones " Thank you again to the Young Tourism Network at Victoria University for presenting me with this award, I am truly humbled".