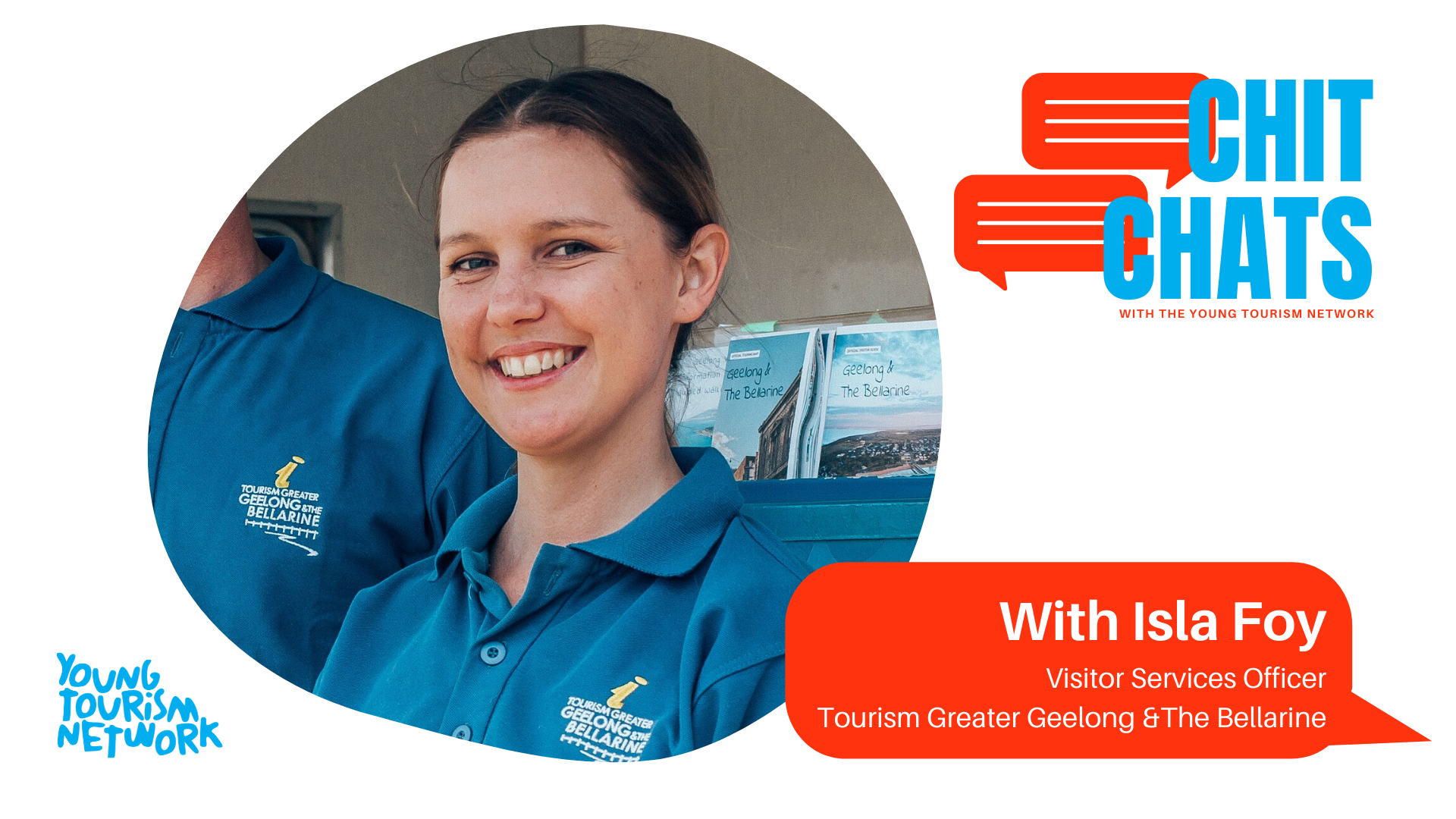 Chit Chat Series: Isla Foy
Your role:
Visitor Services Officer at Tourism Greater Geelong and The Bellarine

Tell us a bit about yourself- where and what did you study?
In 2007 I studied a joint course with Deakin University and South West TAFE in Warrnambool. My courses were a Bachelor of Management and Advanced Diploma in Tourism. I learnt a lot of skills from my Diploma in particular including my RSA certification, event management and was lucky enough to participate in an Internship in Alice Springs working at a Hotel. I also got to do some work experience at the Warrnambool Visitor Information Centre at Flagstaff Hill. This experience piqued my interest in working in Visitor Servicing.

And what are some of the roles you've worked in?
Where do I begin 😊… Werribee Visitor Information Centre – Visitor Information Officer and Supervisor on secondment, City of Melbourne – Customer Service Officer and Tourism Operations Supervisor, Museum Spaces at Museums Victoria – Event Coordinator, Museums Victoria, Scienceworks – Visitor Engagement Officer, Tourism Greater Geelong and The Bellarine – Visitor Services Officer (I got this job whilst overseas, had my job interview via Skype at a Hostel in Guatemala. It was an experience in itself.)
I have also worked in China doing a business internship for three months in 2016. In my role I was a Tour Guide and Administration support. I worked mainly as an English speaking guide for Newman Tours. This was a challenging experience that I am glad I participated in especially having to learn five thousand years of history in three weeks for my first tour. It has encouraged me to continue learning Mandarin.

Before studying did you have your ideal job in mind or is this career path something you discovered through study or chance?
In year 12, I really had no idea what I wanted to do, I was going through all the different courses and then my sister asked me the question what do you really like??? I said to her I would really love to travel some day and so I picked a Tourism Course that just so happens to have two qualifications (bonus!). I am so glad I had picked the course back then as my passion for Tourism has grown immensely with what I learnt from it.

What tips would you give someone who wants to work in a Visitor Services role? Eg. what kind of experience/study/prep could they do to be better prepared at working in visitor services?
I would suggest doing some work experience first or Volunteer with an organisation. I love working in a field where I get to inspire people's holiday and promote the beautiful region I live in. Explore your own backyard, not a must but a huge help when making suggestions of what visitors can see and do in your region.

You live and work on the Bellarine Peninsula. I'm sure this is going to be a tricky question to answer, but what is your absolutely favourite thing about that part of Victoria?
Three years ago I wanted a sea change and so moving to Ocean Grove was the best decision my husband and I made. At this time I still worked in Melbourne for Museums Spaces at the beautiful Royal Exhibition Building. People were concerned for me about my commute but I actually didn't find it much different as I was coming back to a beautiful home where I could walk along the beach, taste new wines and go on some great walks. I love Ocean Grove as I always feel like I am on a holiday and who doesn't like being on holidays? 😊Then my dream role came up at Tourism Greater Geelong and The Bellarine and so I felt that this is a role I had to put my hat in for.

As part of working at Visitor Information Centres it's important to visit local and regional attractions on study tours/famils so that you are able to pass on accurate knowledge to visitors. Tell us about some of the famils you've been on.
As part of my role I help to organise Famils in our region for our Volunteers. Famils are wonderful, as it is a great way to interact with local businesses and learn about their products, so we can then tell our visitors about these products.
One example of a Famil that I have been on is:
Exploring the history of the Old Geelong Gaol, playing a round of mini golf at The Range @Curlewis, enjoying a French inspired lunch at Bouchon at Bellarine, tasting wine at the Bellarine Estate and experimenting some of the finest Gin at The Whiskery followed by dessert at Buckley's Entertainment Centre.

What has been your greatest professional achievement?
Definitely would be receiving Gold in the 2018/2019 RACV Tourism Awards for our Visitor Services at Tourism Greater Geelong and The Bellarine. The application process for the awards program is challenging but it is worth all the work when you receive such an amazing reward.

And to finish, a random quick question….. If you could only eat one meal for the rest of your life, what would it be?
Oh gosh, I do love my pasta so I will go with that 😊

End note: For those starting out in Tourism, right now is a challenging time for our industry, however I feel it is the most rewarding job to have. You get to meet people from all over the world that inspire you to explore places you can only dream of. I know because of the people I have met through my work that I have learnt so much more about our beautiful world.