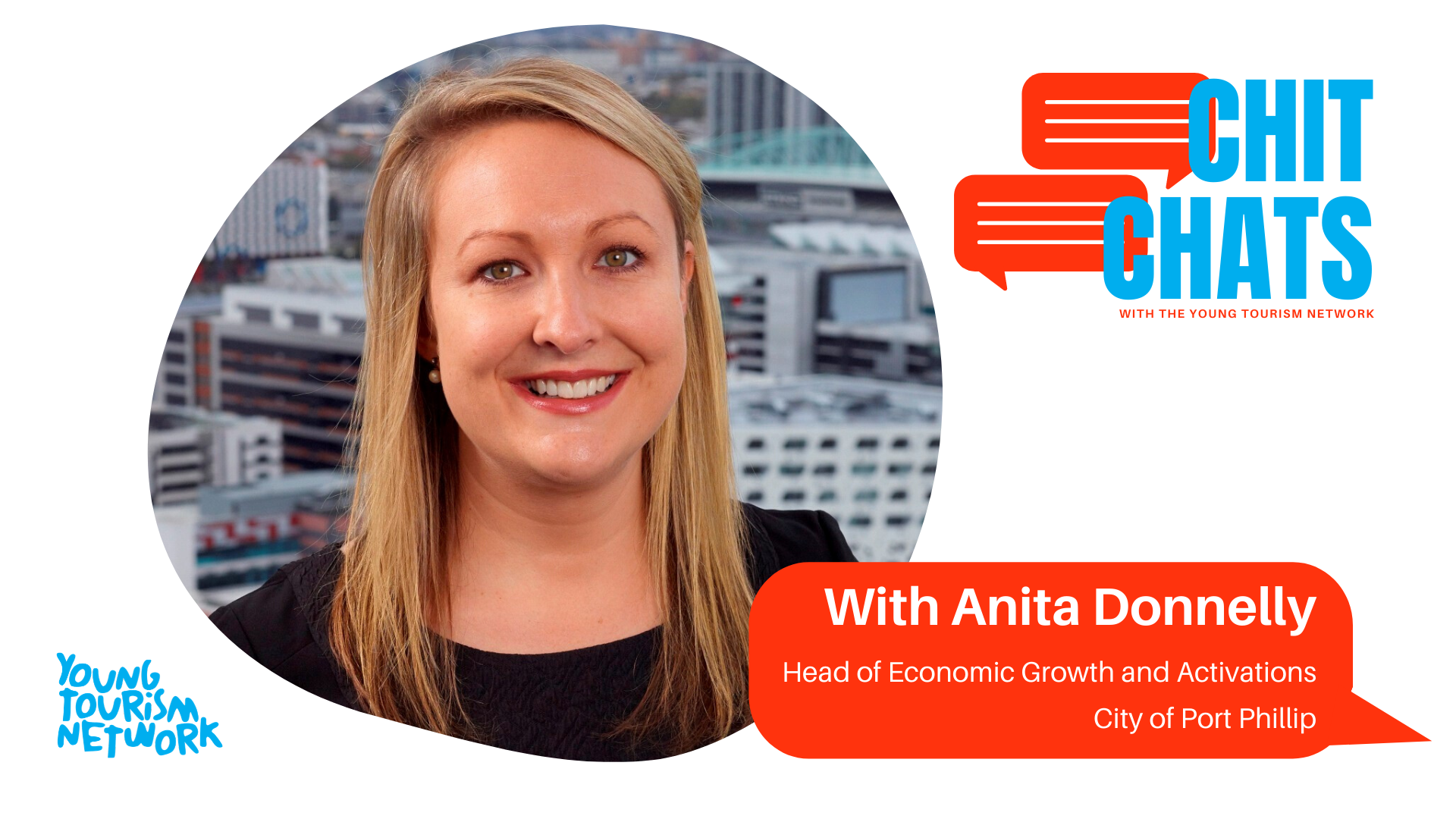 Chit Chat Series: Anita Donnelly
Tell us a bit about yourself- Your studies and past roles in tourism.
I completed a BA (International Studies) at RMIT and a Master of Tourism at Monash University. During both courses I had the opportunity to study overseas with an exchange in the Netherlands, an internship in Thailand and another exchange to Estonia.
Past Roles include: Marketing Coordinator and later returned to be the Marketing and Partnership Development Manager at The National Trust , Events Manager at ParaQuad Victoria and Racing Victoria, Deputy CEO at VTIC and VEIC + EO HMAA and BOAV, Marketing and Events Manager at Marysville Bushfire Recovery (Yarra Ranges Regional Tourism), CEO at Destination Docklands, General Manager at Visit Ballarat, Marketing Manager at Chadstone The Fashion Capital.
Past and Present Boards: Australian Regional Tourism Network – Victorian Representative, Melbourne Tourism Industry Leadership Program – Advisory Committee, Monash University – Graduate Tourism Program, Great Southern Touring Route, Service Skills Victoria – Events, Hospitality and Tourism Representative, Melbourne Awards Advisory Group and Judge, Young ATEC, VTIC Destinations Policy Committee
You've had a very interesting and adventurous journey though tourism, which also had you living in different areas of Victoria. What advice do you have for beginning new roles and getting to know new colleagues, teams and regions?
Explore the region as a visitor even at the job interview stage, stay overnight, eat and drink with the locals, visit the bakery, enjoy the local attractions through the eyes of a visitor before you're an employee. When you commence it's great to get to know your colleagues on a personal level – in a non-lockdown world, go for coffees and Friday night drinks and then the work is much easier to navigate and problems are easier solved if you have a personal base and can understand issues from different viewpoints.
Your title at City of Port Phillip is Head of Economic Growth and Activations- Tell us about what that means and how you will be approaching the challenges of 2020 and a post-COVID world?
It's just changed from Placemaking Program Director as the placemaking program has been suspended for the coming 12 months due to COVID-19 and I feel very fortunate to have a job. My team and I will now focus on reactivating public space and business support across the whole Municipality. We used to focus on three areas of the City but we can look back and recognise what a luxury that was to be intent on helping just some of our communities and areas, and now everyone in every suburb and high street needs our assistance. We plan to deliver parklets, playstreets, shimmy bike routes, wayfinding, engagement and participation programs and of course promote what we are doing.

How do you deal with pressure or stressful situations?
I walk one of my dogs (the other has hip dysplasia and is stubborn so won't go past the letterbox most days) to get a real coffee to start the day off right. I try really hard to pick my battles and pick the right battles. I focus on controlling what I can control. There are rarely good outcomes from wasting time and energy and losing sleep on things you can't control. Right now it's important to prioritise activities and look at the bigger picture too. After I walked 400kms across Spain last May, once I returned to work and had to sit still most days, I would picture this pink flower and the raindrops desperate to fall, yet holding on tight, to take me back to that peaceful place where I only had to rely on my feet during such a wonderful trip, to empty my mind of work stresses.

Is there a significant experience, moment or job that has driven your interest to work in tourism? (Question submitted by Melissa, William Angliss Institute)
I applied for the Master of Tourism as I was desperate to do any Uni course that provided the opportunity to go and live overseas for a semester as part of the program, it wasn't because I was keen on studying the subject of tourism. The fact that I loved travel and tourism was a bonus to actually learn about it rather than just obviously enjoying my holidays. The people I met in that course, including the best people leader I've ever had as we worked together a few years after graduating, is what kept me in tourism. I love the people, the passion, the energy and drive of everyone in our industry. There are never boring meetings, conferences, trade shows – they are all inspiring and a thrill to attend and represent our amazing Australian products and destinations with such wonderful colleagues.

What has been one of your greatest professional achievements?
Earlier this year I had a couple of problems to solve – the incredibly high shop vacancy rate on Fitzroy Street, St Kilda and how to give more support than just donate to animal charities, following the bushfires. I came up with the idea of using some shops as city locations for regional businesses to sell their wares and promote their destinations. The result was two awesome stores in Port Phillip selling what the St Kilda locals needed – milk, bread, butter, cheese, delicious wines not to mention gifts and homewares and the profits all going back to about 100 regional Victorian traders from Gippsland and the High Country when their trade was deeply impacted back home.
You can read more here: https://s3.ap-southeast-2.amazonaws.com/hdp.au.prod.app.pp-haveyoursay.files/5915/8822/3262/Comeback_-_Fitzroy_Street_Close_Out_V3.pdf
How important do you think having self-confidence is in a professional sense?
Very but you don't necessarily have to be an extrovert with it. Often in tourism we are extroverts as we generally have to love meeting new people, swapping business cards or QR codes, promoting our personal brand and that which we represent in our professional roles. You can have confidence in a calm introverted way too. It's fabulous to have all the creative ideas flowing at once but it's also important to take a little time out, reflect, strategically think about what's next and best. My bushfire recovery shops concept came to me over the Christmas break while sweeping the floor – when I had quiet time to think. So I believe you need a balance of self-confidence and timidity where you listen and learn.
And now a question that will have you daydreaming…. if you could live anywhere in the world, where would it be?
New York City!