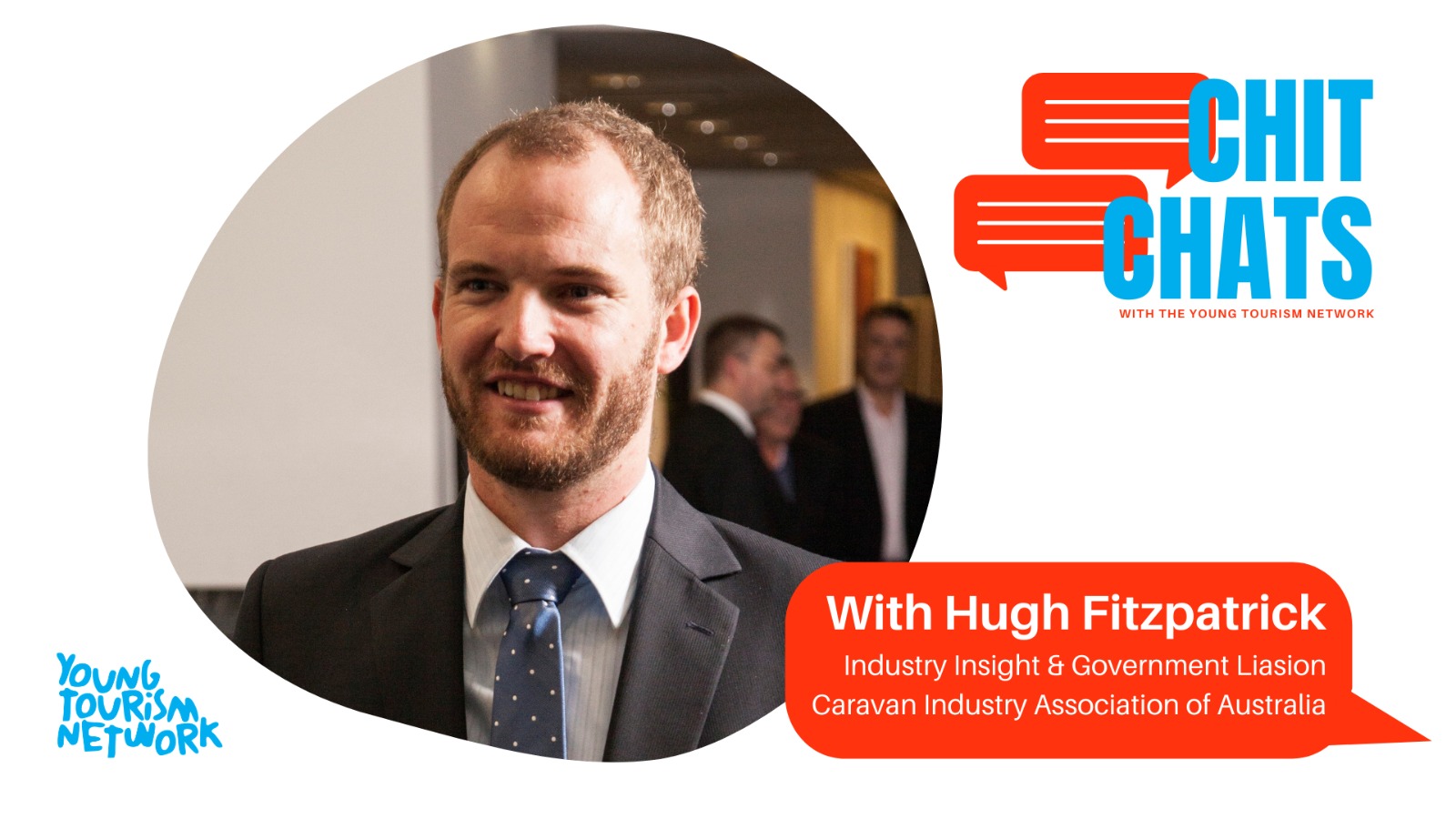 Chit Chat Series: Hugh Fitzpatrick
First thing's first: to help our readers get to know you, tell us a bit about yourself and your career journey so far. What/where did you study? Did you always want to go into tourism and events marketing or is that something you fell into?
I definitely didn't know I always wanted to work in tourism, I originally moved to Canberra from regional Victoria after high school and studied my Bachelor of International Relations at ANU. During that degree, I took a year off to travel in Europe in 2012 and while I was in Croatia, I met a European Tour Leader and was so blown away by their travel/lifestyle, I decided I wanted to give that a try at some point.
It took a few years, but in 2015, I got a role with Topdeck Travel in Europe working as a Trip Leader, taking groups of up to 50 people around for up to 7 weeks at a time. This gave me a love of travel and a thirst to understand more about the sector and, I suppose, progress in the industry. Tour leading was deeply rewarding, but immensely tiring and not exactly the healthiest lifestyle, so two years was sufficient.
From there I enrolled in Monash University's Sustainable Tourism Management program with an idea that I would end up working in destinations and helping communities develop their tourism offerings, however the course actually opened my eyes to the issues and opportunities in Australia's tourism sector. It also allowed me to see myself as being able to have a tourism career while remaining closer to home in the first instance, which was important to me after several years overseas. I received an internship opportunity through VTIC for a tourism research project on the Great Ocean Road, this gave me a 'foot in the door', and led me to successfully get a role with Caravan Industry Association of Australia in Research & Insights at the start of 2018.
I continue to have this role, and in 2020 have also taken on responsibilities around Government relations and engaging with federal departments and MPs around the importance of the caravan industry to Australia and especially in regional communities. In 2020 I also became Chair of YTN, which has been a fantastic experience and large learning curve for me. 
What do you enjoy most about your job?
I enjoy working as part of a small team, it opens a lot of doors that may not normally be opened for someone in their 3rd year of a 'professional' role. I am passionate about supporting operators and businesses in regional Australia, and our insights team (myself and my Manager, Peter Clay) have are using some really innovative and advanced ways to showcase the data that we receive, which helps these operators. The research that we do is some of the best across the entire tourism industry, and it's great being able to showcase this.
I also really enjoy telling the story of the caravan industry to stakeholders and people across government and the broader tourism industry. I think part of this comes from my Tour Leading experience, and the power that a narrative and an engaging story can have in regard to engagement. It's crucial, no matter how important something is to you, that you are able to communicate this to people that have absolute zero idea or interest about your sector. I thoroughly enjoy the challenge of highlighting to people that caravans and caravan parks are a far-cry from what they were 5,10, 20 years ago. 
What would you sing at Karaoke night?
Wonderwall (Oasis) is a go to, as is Paradise City (Guns & Roses). 
What is your biggest win?
Without a doubt it is what I have been able to do this year – I have been able to take on new responsibilities, both at work and with YTN and successfully be able to achieve some goals that I had set out.
From a caravan industry perspective, we now sit on key tourism committees and I speak regularly with the Head of Tourism Recovery at Austrade, advisors to key ministers and continue to develop more relationships with other stakeholders in the tourism industry and government.
From a YTN perspective we have moved our entire offering online & virtual and subsequently developed an entirely new way to provide member value. Despite never having done events online before, these have been a huge success and it's incredible that from April to November this year, YTN memberships have increased 35%, which is a good indication that existing and new members have received immense value, this has been a huge effort from the entire YTN team and I'm immensely proud to be a part of that.  
What is your favourite thing about being a part of, and heading up the YTN committee? Are you continuing on? What do you hope to achieve?
It's great working with a bunch of people from different parts of the tourism industry. We are an incredibly diverse group and this leads to great ideas and project deliveries. I'm continuing on the committee next year, whether as Chair or not (will depend on elections) and I'm excited to see how we can build on the success of this year, and transition back to in-person events.
I am also hoping to be able to increase the voice of YTN across the tourism industry in Victoria and for us to be a louder voice for the issues that impact on young people entering the tourism, events and hospitality industry through external forums & events.
Young people in tourism have arguably been the most impacted group by COVID-19, and there is going to be a massive need for YTN to continue to connect our members with existing professionals & businesses in the sector, as well as highlighting the issues that they face.