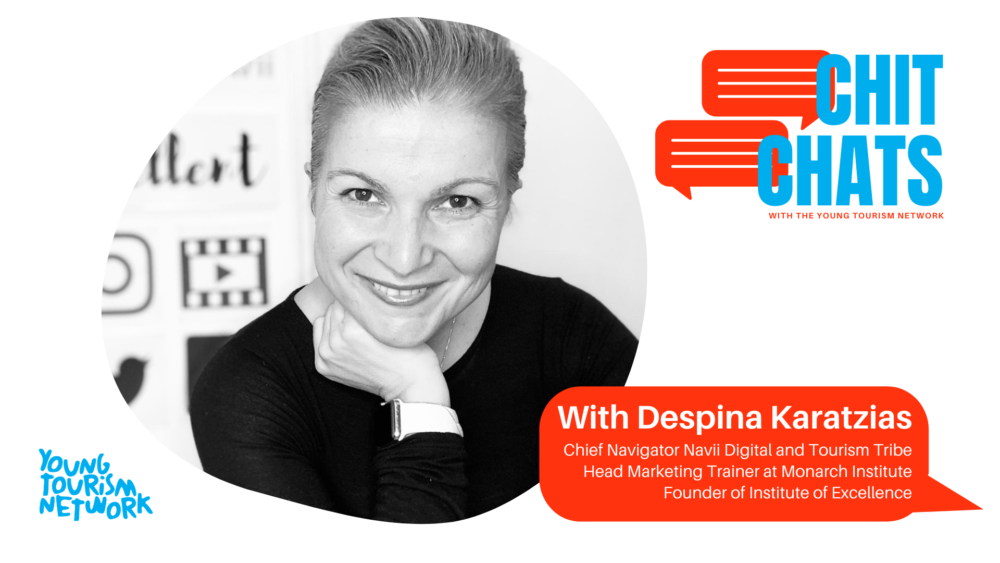 Chit Chat Series: Despina Karatzias
To help our readers get to know you, tell us a bit about yourself and your career journey so far. What/where did you study? Did you always want to go into tourism and events marketing or is that something you fell into?
I started my tourism studies first completing a Diploma of Tourism at Holmesglen, then I went on to complete my Advance Diploma at William Angliss which created a pathway to then complete my Bachelors of Applied Science (Tourism Management) at RMIT.
What was your first job?
My first job was at McDonalds in Rowville. I remember counting down the days to turn 14 and 9 months to get that job. I was ripe and ready for work. I was in Year 10 and as it turned out at the same time I did work experience at my local Target store for that very same reason, get a job. On my last day of work experience, I was offered a casual job at Target and returned the following day for my first paid shift. Withing the first week of being 14 and 9 months my first job was two jobs.
Nothing much has changed and since I was legally able to work, I have had more than one job or business going consecutively. Interestingly, almost three decades later it's still how I roll.

What is the one piece of advice you would go back and give yourself at the start of your tourism career?
I count my blessings daily for the career and opportunities this industry continues to give me that I wouldn't go back and change much at all. As soon as I developed a crush on the world and followed the feeling to pursue a career in travel and tourism I have never stopped or looked back at anything in the journey with regret, only gratitude. Only now my crush on the world is replaced by destinations and people closer to home and there is no other industry I would rather be fighting for right now.

When did you first hear about YTN and what influence or impact has it had on your career, if any?
Unfortunately, at the time I was studying and in my first 'real' tourism job there was no organisation that I knew of like YTN. The opportunities to network, learn and pursue career advice and mentorship were not present in the same, excellent way that is carried out by YTN.
Fast forward those early years my first encounter was when I was invited to speak at a YTN event a few years back. I had young person envy and really admired the work, leadership and efforts other young leaders continue to put in to bring so much value to the next generation. Since then any YTN event I have been involved in fills me up with admiration and pride that the future of our industry is in great hands.

How Do You Best Deal With Pressure or Stressful Situations?
I best deal with pressure and stressful situations by going to what I'm going through. Anything that is hard needs to be confronted with care, compassion and with a conversation. Honourable mention to significant lifestyle choices and changes that have kept me eyes wide open with energy and enthusiasm. Albeit most days I am trying to get a 5km run in as the sun rises, I feel more and more I am somehow finally mastering the subtle art of not giving my energy away and sweating the small stuff. And as this pandemic has taught us, it's all small stuff!

What Are You Passionate About – what motivates you to work?
I'm deeply passionate about igniting excellence in people. I have three kids and deeply passionate about igniting excellence in them. Granted sometimes I can be over the top passionate not only about my work but the work of others, so immersed that I'm annoyed that my body is telling me to eat or needs to sleep, it's just getting in the way of whatever it is I am obsessively planning, creating, learning or producing! I remember reading The E-Myth an excellent book myth busting the belief that small businesses are started by entrepreneurs, when, in fact, most are not. The internet era has, changed the game for small business, and I am deeply passionate and motivated to help small business be smart, scalable businesses through digital capability, systems, processes and crazy good people power.
What is your favorite thing about your career?
Hands down the people I have had the pleasure to work, collaborate, travel, laugh, cry, dance, celebrate, eat and even argue with. We are a passionate bunch with deep respect for one another. For every one dear childhood friend that I love and hold dear I have about five tourism friends that I hold in the same light. All the blessings, achievements, experiences, memories and things I hold dear about my career is always centred around incredible relationships with the humans of this industry.
What do you think will finally break the internet?
This chit chat is going to go viral baby – hope you've sharpened up on your Google Analytics skills YTN crew because the spike in your stats is going to go OFF! 🤪

What's the most interesting thing you've read or seen this week?
Jane, the Netflix documentary about the extraordinary life and work of Jane Goodall. You can follow her on Insta @janegoodallinst and please ping me once you've watched it (@desikaratzias) so I can remind you that you have just as much ability as Jane, or anyone you admire, to make an impact on the world around you too, and on that note will leave you with my favourite quote from Jane Goodall:

"You cannot get through a single day without having an impact on the world around you. What you do makes a difference, and you have to decide what kind of difference you want to make."

Here's to your excellence today and every single day, Despi ❤️🙏
Follow Despina on her socials:
Linked In: Despina Karatzias
Website: Institute of Excellence
Instagram: @desikaratzias
Facebook: DespinaKaratzias