Chit Chat Series: Chris Ritchie
Let's start off by learning a bit about you. How long have you been working in the industry? What/where did you study and what roles have you worked in up to today?
I've been working in the Tourism and Hospitality industry since starting my career as a 17yo young kiwi man, almost 20 years ago. I made my first defining adult decision at the age of 16 to leave school and follow a somewhat of a nontraditional, entrapurnial path. I studied an advanced diploma of Tourism, Travel and Business at the New Zealand School of Tourism, upon graduating I was recruited into a small boutique hotel in the heart of Wellington – The Cambridge Hotel. After a couple of years gaining the experience I needed, I moved to Melbourne where I worked for Base Backpackers, Accor Hotels and other hospitality roles while I saved my dollars to head off around the globe to explore what the world had to offer. I started collecting vinyl records from my travels and this was where I cemented my passion and love for music. Upon my return from overseas in 2008 it was clear that Melbourne was my home, I put myself through a small business management course at Swinburne Uni and started a business selling vinyl online and providing DJ services. Alongside my first startup, I landed a job at STA Travel where I worked as a travel consultant in the national contact centre, then became a store manager at the Monash University, Caulfield Campus. From there I went back to Accor Hotels, this time in membership to sharpen my sales toolkit and develop my coaching, training & recruitment skillset. The next role I stepped up to really shaped my career, after initially coming second in the interview process, I was (6 months later) recruited to work for Best of Victoria at the Melbourne Visitor Centre located in Federation Square. I managed a team of 10 and quickly established myself as an instrumental team member for the company. When that finished up (due to the Melbourne Metro Project) I was recruited by Bookeasy – a tourism tech company to work with and develop the Visitor Information Centre network throughout Australia, to enhance booking capacity, staff mentality and organisational processes. During my time at Bookeasy, pretty much a year into the role I was approached to go into business and head up a tourism startup. Discover Melbourne is a face to face tourism booking service, engrossed in the visitor economy which promotes all things Melbourne & Regional Victoria. Unfortunately it is well and truly in hibernation now due to COVID19 and the reliance on the international market. We are still alive and kicking but the future will look very different. Most recently I was approached to fulfill a short term contract with the Engagement and Innovation team at Stonnington Council as a Project Manager. This role has me overseeing the development of a new, modern approach to council services & a touch point for visitors at the recently developed Prahran Square. This project is super exciting and once the Stonnington Services & Visitor Hub is complete, it will set the bar high for other local governments public facing spaces throughout Melbourne.
What do you enjoy most about your job?
The buzz and being a part of a team. Helping bring some positive outcomes for people from the various aspects of work whether that's a customer, a region, a colleague or a business. I love rolling my sleeves up and getting stuck in, whether that's on the front counter, developing a strategy, implementing new procedures, sharing a vision, or workshopping some training. I like to be actively involved with any role, regularly busy and most importantly engaging with people.
If you weren't working in tourism, what would you do?
That's easy. I would run a little record label/vinyl pressing plant specialising in small batch pressings for local music, as well as probably have some sort of retail offering and perhaps a coffee machine. Pressing vinyl can be challenging and costly for emerging artists so my focus would be making access easier and simplifying the process for local musicians to fully showcase the magnitude of their musical talent from across Australia and New Zealand. 

You have no doubt conducted your fair share of job interviews throughout your career. What are your best tips for how to prepare for an interview?
I reckon I would have conducted well over 150 interviews in my time, as well as going through the process of being interviewed for various roles throughout my career. My tips are simple;
Know your strengths and practice articulating them into relevance for the role you are applying for.
Use stories and real life examples when answering questions to really engage in the interview process. Take your interviewer on a journey!
Be prepared to not know everything, but make sure to showcase how you are coachable, willing to learn & adaptable to any organisation.
Tap into your network. Ask them questions, quiz people and gain insight into a similar role.
Be yourself & let your passion shine through.
As an employer, what advice would you give students or new entrants to the industry of how to make their resume and cover letter stand out if they don't have much (or any) industry experience?
First up is to showcase your passion for the industry, highlight all you have done to engage and immerse yourself in it. That could be done through study, a previous role, volunteering experience or even extracurricular activities – something as simple as being of the YTN shows you are committed and passionate about our industry!
Secondly (and probably most importantly), explain the 'Why'. Why tourism? What is it about tourism that makes you want to be involved and have a career in it? What algins tourism with your personal ethos or belief system? Having a job in an industry that you breath, believe & can blossom in, is a reassuring guarantee for any prospective employer.
What skills are most important for working in sales that you don't learn at uni/TAFE?
Nothing can beat the ability to instantly build rapport with people from all walks of life, age and cultures. Get on their level, ask them a question, chat about something random or relevant to them. It could be the crazy weather, or a big upcoming sports game, perhaps it's the nice hat or fancy shoes they are wearing, maybe even a foodie conversation – engage with them. Share a storey and build a foundation of trust. People buy off people they like, people like people they trust. You can follow all the processes and strategies you like but if you can't build rapport with someone then it's going to be a tough ask. Lastly, resilience. People will say no, don't take it personally. Sometimes there's no reason, sometimes it's cause we haven't provided them what they want, don't beat yourself up about it, just review what you could have done better for next time, go again and remember we are all human.
As someone who recommends itineraries to tourists in Melbourne, what do you think is a hidden gem in Victoria that not enough visitors make time for? (This could be a region or a town, or even a particular attraction, up to you!)
Only one?? That's tough! Close proximity to Melbourne would have to be the Bellarine Peninsula. It is still somewhat 'off the beaten track' as far as international visitors are concerned and is basically right there, very easily accessible for the majority of visitors as they head towards the Great Ocean Road. The offering is vast, the scenery is spectacular and the food and wine is world class! As for a particular attraction, Narana Aboriginal Cultural Centre would be one hidden gem (next door to the Bellarine Peninsula as well). This wonderful place offers the opportunity to immerse, engage and educate yourself in local Aboriginal culture and truly experience Australia's first nations. From indigenous ingredients in the cafe, to local original artworks, a native wildlife garden, traditional tools and weapons display as well as a fantastic retail offering, this is a must visit in my opinion.
Where are you most looking forward to travelling to when borders open again? 
Back to New Zealand for sure. Spending time with my family and making sure that my daughter maintains a strong connection with Aotearoa and it's culture is very important to me. One particular spot we spend our time is on the east coast of the South Island about 45 mins north of Dunedin). My father lives in a place called the Moeraki (famous for the Moeraki Boulders & a restaurant called Fleur's Place), it has a permanent population of 55 residents, a wonderful long stretching beach in a protect bay and has a colony of yellow eyed penguins, masses of fur seals and bird life a plenty. It is the absolute essence of 'chilled' and is a sure recharge of batteries  for anyone who spends some time hanging out in this little village.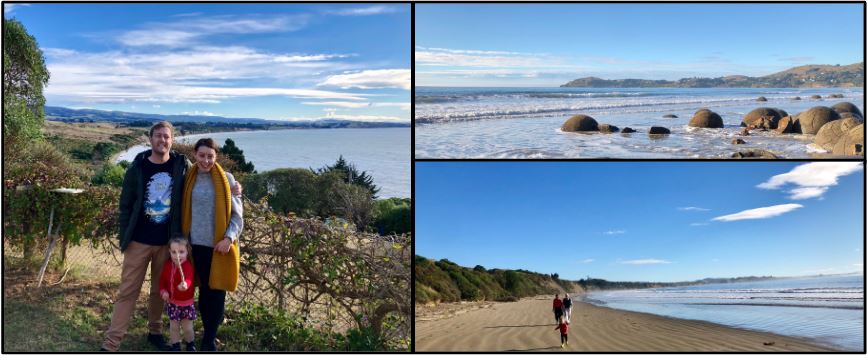 Whose brain would you most like to pick and why? (Can be someone in the industry, someone famous, anyone!)
Barack Obama. I'd love to chat to him about a whole host of things. How he maintained his work life balance in what would have been one of the most demanding jobs in the world. Tips for handling politics and difficult situations. His process for prioritising and planning. How he maintained his sense of being grounded during his two terms in office and lastly I'd love to know some of the top secret, classified information (dreams are free…)
What was your most memorable travel experience?
There's been a few, but if I had to choose one it would be Santiago de Cuba. This town on the southeastern coast of Cuba, on the caribbean sea was even more of a step back in time than Havana. I have one particular memory of our time here we went out for dinner to a restaurant that had this amazing huge tree in the middle of it, after eating and drinking our way through the menu we went for a walk, got lost and stumbled across a live cuban band performing in one of the town squares, we danced and drank until the wee hours of the morning and made some great friendships.

What has been your greatest professional achievement?
The inception and launch of Discover Melbourne would be my greatest professional achievement to date. I had some great support through my business partners for guidance and some of their resources at my disposal, but ultimately it was pretty much a solo effort. Having not previously managed a project of this magnitude it was one of the toughest and most rewarding challenges to date. Designing, building and fitting out the space on a startup budget was a challenge in itself, paired with concurrently implementing the operational side of things for the business – recruitment, industry partnerships, systems & processes was massive – Let's just say it certainly wasn't a dull time in my life! 
Discover Melbourne has been hit pretty significantly by the bushfires and the coronavirus. What keeps you optimistic about the future of tourism?
What keeps me optimistic?..My passion and belief of the importance of tourism. No matter what happens tourism will still be there in some shape or form, it has too! It's human nature to need some time off or to get away. A holiday, a short escape, an overnight visit or a weekend break. A camping trip or a day excursion, even an afternoon visit to a neighbouring region all still require tourism to be alive and kicking! International tourism will eventually return, slowly but surely. I am in no doubt that the landscape will be different but I am sure of one thing – there needs to be the services, infrastructure and most importantly the people there when it comes back. The people are really what makes our industry and yes we've been battered, yes it's been tough but we will live to fight another day!