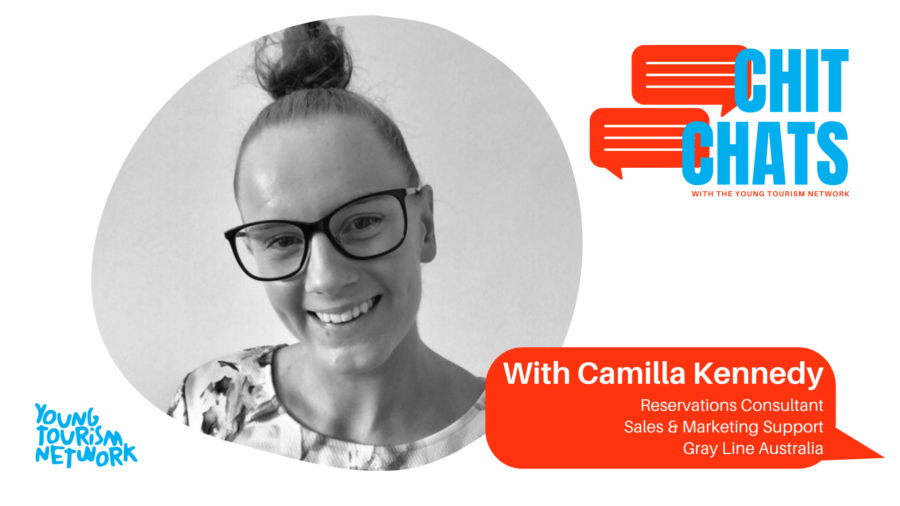 Chit Chat Series: Camilla Kennedy
Tell us a bit about yourself – where and what did you study? Tell us about your current role at Gray Line Australia.
After finishing high school, I went straight into university. I graduated with a Bachelor's Degree in Environmental Social Science at RMIT. The sustainability and environments field has always been an area of interest for me, but I knew I had a strong drive and interest for the tourism sector, and I wanted to pursue that further. After taking some time off to work, reflect and travel, I decided to enrol in the Diploma of Travel and Tourism Management at William Angliss Institute. At the end of 2019, I graduated with my Diploma.
For nearly two years I have been working for a sightseeing tour agency, Gray Line Australia, in the field of reservations, sales and marketing. Gray Line operates day tours in all major cities and destinations throughout Australia and New Zealand. My day-to-day role involves assisting customers, including travel agents, hotel concierges and direct customers with day tour bookings and enquiries while liaising with various tour operators and supplier venues. I also oversee our social media sites and provide sales and marketing support to the Sales Manager in promoting our products within the local and overseas market place.
What do you think are the best skills to have to work in reservations and sales?
Strong product knowledge and the ability to communicate effectively with others is very important. Working in tourism, you will often be communicating with a range of different people, some who may speak little to no English. Reservations require a high level of attention to detail and effective communication as the reproductions of a booking error can be quite detrimental to the customer experience.
I am passionate about my job and the industry in which I work, which I believe is at the heart of achieving quality sales and marketing objectives. Your ability to build and maintain business relationships will naturally grow if you remain authentic, enjoy what you do and believe in the product that you are marketing.
Are your previous jobs and/or degrees directly related to your current job? (question submitted by Melissa, William Angliss Institute) And how has your background (work/life/studies) prepared you for working in Tourism and Travel?
My university degree was not directly related to the tourism field, however, everything I have done in the past has contributed to the skills and knowledge I utilise every day in my current role. Prior to studying and working in tourism, I worked as a pool lifeguard for 4 years in a busy aquatic leisure centre while studying at university. It was a great job and I learned a lot about the importance of effective communication and working as part of a team.
I was also able to undertake a number of work placement opportunities throughout my education, one being at Global Ballooning Australia. I gained valuable insight into the operation of a successful tourism business and was able to work closely with members of my team in the field of business development and marketing.
I have travelled to many different and wonderful places in my life which has prepared me for a career in the industry. There are so many beautiful places to visit around Australia and I love promoting our tourist destinations to domestic and overseas visitors.
What 3 tips would you give to people who want to start a career in this industry?
Start now! Join a networking group such as YTN and start building your network and connections within the industry. This will also help broaden your understanding of the various tourism roles that are out there and will give you the opportunity to speak with industry professionals in relaxed and informal settings
If you are studying in the field of tourism, utilise the resources you have around you. Speak with your teachers and career advisors about what a career in the industry could be like. Focus on your interests but don't cut yourself off from opportunities as there is a lot of room for career progression and movement within the industry
Volunteering is a great way to get your foot in the door and to see what is out there. Work experience is never wasted, and this will help you grow!
Do you have any advice for students who are nervous about networking?
I was very fortunate in that I was studying at William Angliss when I joined YTN, so I was able to attend events with like-minded people from my course. My advice would be to find a buddy who is also interested in tourism with whom you can go to networking events. Once you have been to a few events, you can start to build genuine connections with other people who share similar interests. Networking can be nerve-racking but also really fun if you put yourself out there! It can be so beneficial to the progression of your career, especially in the field of tourism where building and maintaining relationships is so important.
For someone reasonably new to the industry it can be quite daunting applying for vacant positions. What is your best tip for preparing for job interviews?
Preparation is key. Do your research on the company and the position you are applying for. Think about the questions that the employer is likely to ask and make sure you have relevant examples to back you up. Anyone can say they have the necessary skills to do the job, but describing your actions and how you handled certain situations will make it easy for the employer to assess whether or not you're a suitable candidate. Think about your strengths and what you can bring to the team and play to these.
It's important to be prepared but don't put too much pressure on yourself. If you have made it to the interview stage, you are more than half-way there. This is simply an opportunity for the employer to get to know you a little better, so don't forget to smile and be yourself!
And, a fun one, what destination are you most excited about visiting in the future?
I'd be happy with literally anywhere post-COVID but Western Australia would have to be at the top of my bucket list! I would love to swim with whale sharks off Ningaloo Reef.