Disruptors & Innovators
Change is inevitable! Lucky for us, coming to present at our next Professional Development series, are those at the forefront of the latest innovations, technology and trends impacting our industry.
We have guest speakers coming in from the innovation and research space, CityLab, who focus on building collaboration between the community, technology and government, Virtual Reality experts from Kasa Digital, who will give you a look at the future through a completely different lens and those behind one of Melbourne's most iconic attraction for both local and international visitors. 
Meet our speakers:
Museums Victoria
Hamish Palmer: Experience and Interpretation Manager
Emma Campbell: Senior Manager, Brand and Audience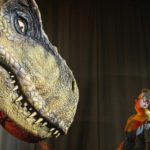 The Museums Victoria collection is vast and eclectic with 17 million objects ranging from the world famous racehorse PharLap to the infamous sad otter, an internet sensation. The Museums hold a number of permanent and touring exhibitions like the recent blockbuster exhibition Jurassic World. Hamish and Emma will uncover lessons on disruption and talk through some of their most innovative campaigns.
CityLab
Sarah McArthur: Senior Service Designer and Project Lead
CityLab is a creative space built on the philosophy of working with the community to understand future challenges and to start prototyping solutions that will bring positive change to our city. In this seminar, you will find out more about CityLab's new visitor experience project.
Kasa Digital
Dexter Eugenio and Jacob Paris
Let's explore the world of Virtual and Augmented Reality and what it means for the tourism industry. Dexter and Jacob will explain how these technologies are poised to divide and shake up the industry and why the future of tourism is closer to 'Total Recall and The Matrix'.
Date: Tuesday June 27, 6pm to 8pm*
Venue: Crown College: 8 Haig Street, Southbank 3006
Cost: $20 student member / $25 professional member / $39 non-members
TO REGISTER, CLICK HERE. 
*Followed by a complimentary drinks and canapés.
Thanks to our Venue Partner, Crown College and our Corporate Gift Partner, Clementines